Products
SHIPPING AND HANDLING All items shipped by Canada Post Expedited Parcel, 3-4 days to most locations in Canada, web-trackable and insured, all from Montreal Quebec. Actual shipping charges depend on weight on overall order. Shipping is inexpensive. Just so you have an idea, all the non- heavy items on this web page combined can be shipped insured from Quebec to Ontario for C$10.00. ORDERING AND PAYMENT Payments made by Visa/Mc Paypal, CIBC Cash Deposit, Email Money Transfer. No COD's.

Intended for:
Products.

More Information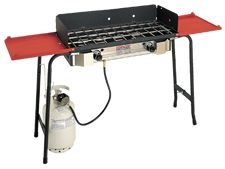 CAMP CHEF DELUXE DOUBLE BURNER | DB-60D
There's Coleman, and then there's Camp Chef. Known to some as "The Mother of All Barbeques", you've seen this great thing make appearances at many PQAC-Riguad games, and recently Op Desert Rat. Propane powered, this portable unit features two 30000 BTU stove elements (totalling 60000 BTU of cooking power), which is twice as much as your home stove. Boil pots of water in minutes. Red side shelves and legs fold-in, so you can carry on your A.L.I.C.E cargo shelf and then pack it away in your car. You simply can NOT do this with a conventional bulky bbq. Like all Camp Chef products, unit is easily to clean as all components lift apart with easy to be hosed down after every use. Unit and plus are in new condition. Includes these extra accessories as pictured from left to right: (#1) 13 x 13 inch Single Fry Griddle | FG-13, Griddle delicious meals fast with this convenient unit. (#2) Open Air Barbecue Grill Box | BB-200W, Enjoy the delicious flavor of an open-air, restaurant-style Australian barbecue grill. The nickel-plated grill grates are easy to clean. Unique diffuser plate eliminates cold spots for convenient outdoor grilling. (#3) Barbecue Grill Insert | BB-30, Turns your DFS-30S stove into an outdoor barbecue grill. Convenient drop-in insert design. Unique diffuser plate enhances cooking performance. (#4) Windscreen | WS-60, The windscreen enhances the look of your stove as well as helps protect the flame from wind.



Price C$300.00 *SACRIFICE* (being sold to be replaced with 3-burner unit, yes you noticed we don't screw around.)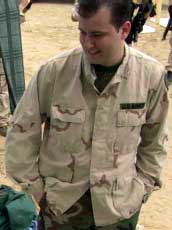 BDU COAT, ENHANCED NYCO RIPSTOP - DESERT 3-COLOR
Battle Dress Coats feature four cargo pockets with concealed button closure flaps. These are made of the enhanced 50 cotton / 50 nylon lightweight ripstop poplin for hot weather and temperate climate wear. Extremely durable with a much longer wear life than regular cotton ripstop. Extremely hard to come by now due to high U.S. Military demand, this pattern is the current U.S. Army Day Desert Camo pattern. This is a genuine U.S.Army G.I. issued shirt with tages and patches still on it. In great shape, better than most things you fine in used surplus shops. Above photo of actual shirt being worn. Size Medium-Regular.
Price C$25.00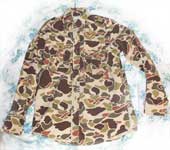 BDU COAT CAMO
Great camo shirt for Opfor. In great shape, better than most things you fine in used surplus shops. Above photo of actual shirt. Size Small-Regular.
Price C$10.00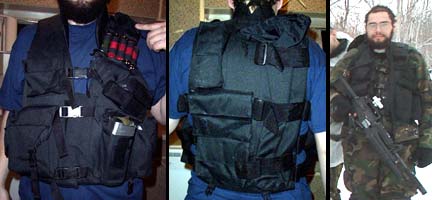 COMBAT VEST
The vest is a generic model ie no tags. It is in excellent condition with NO tears, scratch or holes. It's lightly padded and black in color. Left front panel: 2 dual m-16 mag pouch velcro , 2 pistol mag pouch velco , 1 shotshell pouch (holds five rnds) velcro . right front panel: 1 dual m-16 mag pouch velcro , 1 large multi purpose pouch with clip , 1 small utility pouch velcro . back 1 shotgun sleave tho the right (m90 shorty fit's nicelly) , 1 radio tho the left , 2 utility pouch velcro . This is a non-ASGK product, contact the seller directly vondnick@hotmail.com .
Price C$100.00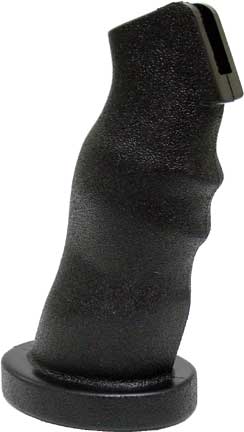 M4 SNIPER GRIP
Ambidextrous oversized grip allows your rifle to be rested on any surface without damage to it. Great if you drop on the ground a lot, or leaning your M4 on something in front of you (like rocks). Great if you wear think gloves, get a tighter grip on your rifle, improves shooting accuracy. Gives your M4 a baddass look. Like all real M4 accessories, CANNOT BE USED IF YOUR AEG KEEPS THE MOTOR IN THE GRIP. Easy to install - if you check your rifle, you will see 1-screw that holds your handle from the bottom. Grip is in new condition, used only for 1 game. Seen sold on other websites usually for US$30! Being sacrificed.
Price C$30.00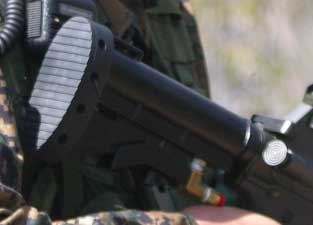 M4 CARBINE STOCK PAD
Piece of rubber that slips over your carbine stock and adds about 1" inch to the butt. Gives your M4 a nice tight grip to your shoulder, get better shots, improve accuracy. Still in new condition, was used only for a few pqac games. Two available.
Price C$15.00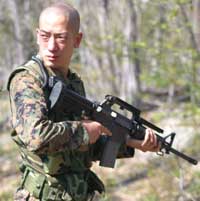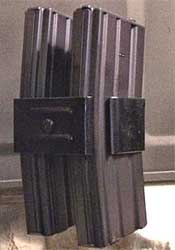 M4 DOUBLE MAGAZINE CINCH
All metal piece that firmly binds any two M4 magazines together. Not the cheap plastic-strap version you see sold by many AEG dealers. Great for low-cap mags, don't be caught in-between mag reloading during a firefight. Brand new, never used for any games.
Price C$13.00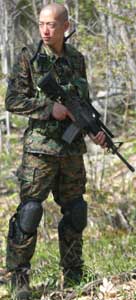 BDU COMBO - DIGITAL PATTERN CAMO (MARPAT)
Still own old-school woodland camo? Jealous of Red Team's CADPAT? Extremely hard to come by now due to high U.S. Military demand, MARPAT is the current U.S. Marines Digital Camo pattern. Above photo of actual shirt and pants being worn. In new condition, only worn and washed once. Size Small-Regular. Paid US$80 for the set, and that didn't include shipping and import taxes. Being sacrificed.
BDU Shirt and Pants - Price C$85.00





USGI PISTOL BELT - OLIVE DRAB
Brand new U.S. Genuine Issues Pistol Belt. If you have a worn out ugly belt, or an ancient one with the metal clips, here's a new one for you cheap. Brand new, never used for any games. Not the cheap import one that sells on internet for US$9.95. This one was purchased for US$19.95, and still have to add shipping. Being sacrificed.
Price C$20.00


A d v e r t i s e m e n t

---